SHARE QUILTING IDEAS AND EXCHANGE SOURCES FOR FABRICS
JUST THINK OF IT, WE COULD START A QUILTING ROUND TABLE, EXCHANGE QUILT BLOCKS, MAKE FRIENDSHIP QUILTS OF BLOCKS FROM NEW FRIENDS ALL AROUND THE COUNTRY,AND BEYOND.

I SEND YOU ONE YOU SEND ME ONE,12 1/2" each,

IF YOU LIKE THE IDEA LET ME KNOW.

GO TO MY GUESTBOOK AND LEAVE YOUR MESSAGE. I WILL LOOK FORWARD TO HEARING FROM ALL YOU QUILTERS OUT THERE.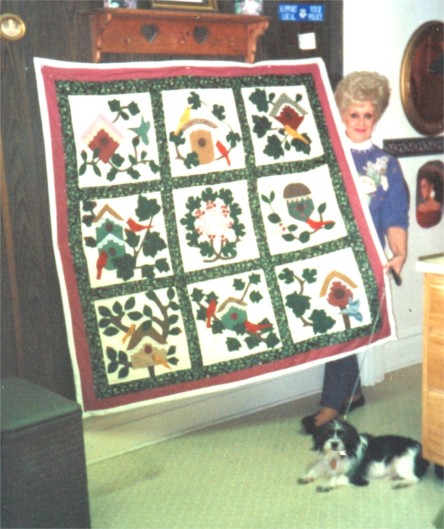 FAMILY TREES
IF YOU HAVE A CONNECTION INTO ANY OF THE FAMILIES ON MY SITE, LET ME KNOW YOUR CONNECTION SO WE CAN INCLUDE THEM IN THE FAMILY HISTORY. I HAVE MET MANY COUSINS FROM ALL OVER THE US, SO LET'S KEEP IN TOUCH.